---
|| Main Page || Company Profile || Offer || Products || Cooperation offer || Validation || Email ||

Leaflets/specifications: Hygromethers, Thermometers (Dataloggers), Calibrators, Memory readers
Temperature Probes, Humidity & temperature probes, Manometers, Temperature Loggers
---
Geneza Ltd. is 100% privately owned Limited Liability Company. At our facility in Kraków, Poland we develop and manufacture temperature and humidity measuring equipment. We have been on the market since 1990 and we have earned very good reputation by our long term cooperation both with the small and most prestigious corporations, companies, technical universities and research centres as well.
Our customers can always rely on Geneza`s custom capabilities to provide them with the highiest quality instrumentation and temperature/humidity probes for their application, at very competetive price and within a very impresive delivery time.
Our meters, probes and sensors have broad application in process engineering, pharmacy, food managements, air conditioning systems, water boilers, refrigerators, meteorology and enviromental research, hydroelectric plants, woodworking industry, and many others user in experimental and research facilities.
Specifically, we offer:
Pt - 100 and Pt - 1000 platinum temperature probes
interchangeable thermistor probes
temperature and relative humidity measurements products
temperature and humidity microprocessor and PC based dataloggers
research and development in electronics, sensors and probes
projecting, designing and manufacturing sensors, probes and transmitters for high technology industry, universities, agriculture, pharmacy and food industry
representation foreign companies on the Polish market
Also, due to our experience and our laboratory equipment we have been registered at the Regional Kraków Branch of the National Measurement Office.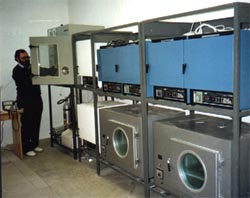 Mostly, our products have been certificated by the Polish National Measurement Office as traceable to the national and international standards. All tests are documented on the official certificates of the traceability. Most of our clients have the ISO-9000 or even GMP certificates.
HACCP
If you need further details, please do not hesitate to call or write us
Yours faithfully,
Dr Bogusław Herod, President
---
|| Main Page || Company Profile || Offer || Products || Cooperation offer || Validation || Email ||

Leaflets/specifications: Hygromethers, Thermometers (Dataloggers), Calibrators, Memory readers
Temperature Probes, Humidity & temperature probes, Manometers, Temperature Loggers
---
Copyright © 1999-2004 PW Geneza Ltd. All rights reserved.