---
|| Main Page || Company Profile || Offer || Products || Cooperation offer || Validation || Email ||

Leaflets/specifications: Hygromethers, Thermometers (Dataloggers), Calibrators, Memory readers
Temperature Probes, Humidity & temperature probes, Manometers, Temperature Loggers
---
The instruments which fulfil requirements of the quality assurance system ISO - 9000.
Platinum temperature probes and thermocouples are subjected to a great deal of thermal, chemical and even mechanical stresses during their industrial use. As the temperature is one of the most important indicators of quality, operational safety and service life, the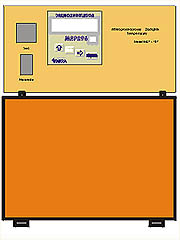 quality assurance systems based on ISO-9000 demand inspection and calibration of temperature probe at least once a year. To meet this requirements, Geneza Ltd. Developed Computer Calibrators series ISO - Test 9000.
The system calibrates and inspects resistance thermometers ( Pt - 100, Pt - 500, Pt - 1000 and Ni - 1000), thermocouples J,K and S in accordance with the international standards EN - 60751 +A2:1995 (RTD) or EN - 60584.1 (TC) and ISO 9000 procedure series.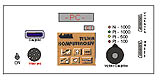 The ISO - Test 9000 system consists of programmable heated circulating bath and calibrator which feature bi-directional RS - 232 interface to external computer (PC). During the test operation, the software enables you to view all data and create calibration certificate including your private logo.
All parts of the ISO - Test 9000 system possess, issued by the Measurement Office, certificates of conformance to the international temperature standards. Calibration values can be manually entered and stored for each standard traceable probe at any temperature given in their certificate of traceability.
---
|| Main Page || Company Profile || Offer || Products || Cooperation offer || Validation || Email ||

Leaflets/specifications: Hygromethers, Thermometers (Dataloggers), Calibrators, Memory readers
Temperature Probes, Humidity & temperature probes, Manometers, Temperature Loggers
---
Copyright © 1999-2004 PW Geneza Ltd. All rights reserved.